I chose these Photos because they are simple photos but they say a lot about me as a person and what Im interested in. For example i love soccer but I bet you could already guess that by observing the collage, Just off these photos one can get an idea of who I am and what I'm like. I chose lion king because it is the foundation of my childhood and by far the greatest movie every made. All of the people in the collage are people that inspire me everyday. Lastly, the dog and burger represent thing i love, animals and food.


Author

Write something about yourself. No need to be fancy, just an overview.
Powered by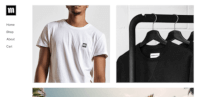 Create your own unique website with customizable templates.